A PIG WALKS INTO A BAR…
BBQ is a southern staple. And there are thousands, if not millions, of variations of it. From technique (Carolina, Eastern North Carolina, South Carolina, Memphis Style, KC Style, Texas Style), to spelling (barbecue, barbeque, Bar-b-q, BBQ, Q, Cue, etc.), everyone has their own opinion. Bone Lick is no exception.
However, instead of trying to grab on to some singular interpret  ation, we focus on making BBQ that is delicious, and right on point, with Big Bold flavors, a decent amount of spice, and a rich, smoky flavor. We are not from North Carolina, We are not from Kansas City, We are not from Texas, but we have been to all of those places and brought the best of the best techniques and flavors back here to Atlanta, Georgia, the place we are proud to call home…
AND THE REST IS HISTORY…
It started decades ago when Chef Mike LaSage first tasted the smoky deliciousness of some BBQ that his dad brought home from a road side shack… That taste changed his life. He spent decades chasing the memory of that flavor all over the country, from bbq town to bbq town, only to eventually take it upon himself to master the art that had been a, thus far, lifelong culinary quest: the perfect blend of bold spices and strong smoke; the flavor that embodies southern culinary tradition; the flavor that captured a favorite boyhood memory: bbq.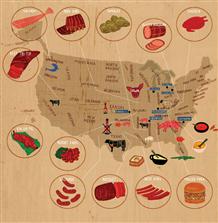 Many years later, he partnered up with the fellas from P'cheen, a then bustling institution on the forefront of the casual gastro scene, and said "Let's do something ridiculous."
Mike's Bone Lick BBQ, one of Atlanta's first "Pop-Up" restaurants, was born.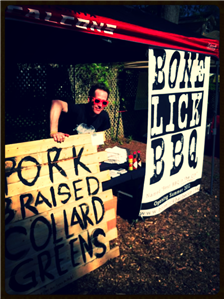 Slinging delicious slow smoked BBQ once a week, Chef Mike LaSage was soon making bbq converts of folks from all over Atlanta and it's many suburbs.
Bone Lick BBQ quickly became a name on many Atlantan's lips as they lined up on Monday nights to sample this southern gold. Once Atlanta Magazine named it the best in the city, it became clear to Mike + Co. that a brick and mortar needed to be built. 1133 Huff Rd., in West Midtown Atlanta, would be it's new home.
Nestled in the bottom of the Apex loft building you find Bone lick BBQ: A BBQ joint serving up strong drinks and hosting some great live music. There are vintage arcade games, an old school FREE skee ball lane and good old crackly vinyl records playing in the background. A perfect place to enjoy the best BBQ the south has to offer while sipping on local beers and enjoying some good music and great company!
BONE LICK BBQ HAS ALSO JUST OPENED ITS NEW LOCATION IN THE OLD 4TH WARD ON THE EDGEWOOD CORRIDOR AT 327 EDGEWOOD AVE. ABOVE THE MUSIC ROOM!
Visit us at:
How we go to Bone Lick BBQ?
What People Talk About Us: